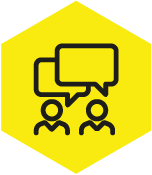 IT AND TECH SUPPORT FOR K-12 SCHOOLS
A Team Equipped to Manage Student Devices
Children are our greatest treasure and the future.
We make sure schools are prepared for an increasingly digitized environment and keep them a productive place for young minds to grow.
You are an education expert who has the teaching pedagogy and passion for student development. Still, you can't fully perform until you have the tools and tech support to help you reach the highest teaching standards.
Focus on your students and curriculum, and leave your school's network, Wi-Fi, computers, and devices to our experienced team. With a rich history and experience working with educational institutions throughout Pittsburgh, PA, we offer customized tech solutions that fit your needs.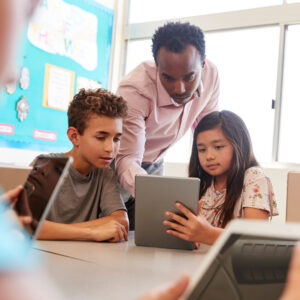 Common School and Education Institution Needs

We can help select, implement, and maintain cloud-based technologies and platforms that allow students and teachers to conduct remote learning lessons and manage schoolwork.

Secure Network Infrastructure
Defining network traffic – this process ensures higher network priority tasks such as conferencing calls aren't affected and interrupted by less important tasks such as guests accessing Wi-Fi.

Mistakes or computer failures can happen unexpectedly. You can rely on us to set up regular automatic backups and data recovery processes when accidents, computer errors, and power outages happen.

The increasing number of devices in classrooms is a growing challenge without proper IT oversight. Mobile device management solution helps schools better manage devices used on the campus. We are a Jamf School Service Provider.

We provide full support and integration of Google Classroom, Apple School Manager, Seesaw, and other leading education and classroom management platforms.

Technology is an asset in the classroom, not a distraction! We design and implement customizable Bring-Your-Own-Device policies so teachers and students can connect their own devices safely during class.

Regulate user and guest Wi-Fi access with differentiating level and setting web filtering policies to ensure a safe school network for students while still allowing administrators to access sites to do their jobs.

24/7 IT Support in Pittsburgh
Have an urgent IT and tech problem? FSA Consulting is based in Pittsburgh and ready to solve any issues you might have. Real people are here to answer your questions in real-time.

Business Internet and Phone Service Provider
Need business Internet and VoIP phone solutions? We can simplify your tech procurement and servicing needs and reduce your school's Internet and tech expenses as well.
Other IT Services for Schools and Education Institutions
Backup and storage management
Network discovery, assessment, and network analysis
Network monitoring and management
Patch and security management
Risk intelligence analysis
Web protection, firewall, and intrusion prevention
Don't see what you need? Let us know.
Make the Change to Better IT Management So You Can Focus On What You Do Best
We understand that every education institution is unique, and no one service plan fits all—that's why we work closely with you to create a custom solution that addresses your needs and budget.